PRP+ MICRONEEDLING (HAIR or FACE)
$750
PRP Hair Restoration
PRP therapy is used in hair restoration for natural looking results. With a thin needle, your own Platelet-Rich Plasma (PRP) is injected into the scalp. Then the growth factors in your blood cells do their job and hair growth is naturally stimulated. PRP Hair Restoration is suitable for both men and women.
Most imperfections will begin to fade and continue to improve with each treatment. This is a great noninvasive option to eliminate the red and brown spot imperfections.
Increasing collagen and elastin production internally as well as helping the skin absorb essential vitamins and nutrients during the process of application is the purpose of our microneedling and PRP treatments. Elastin and collagen fibers are the healthy building blocks of tight, evenly textured skin. Microneedling is done using a hand-held device with 12 or more microneedles at the tip; these microneedles make tiny punctures in the skin in an evenly spaced manner. Natural healing processes are activated once these micro-channels are made in the skin.
As we apply microneedling to the skin and infuse your body's own supply of nutrients and additional growth factors, we implement our platelet-rich plasma as a thin layer on the skin so that the plasma can fill in these micro-channels and begin to work its magic. Platelet-rich plasma is derived from your own blood drawn before your microneedling treatment and centrifuged to separate your red blood cells from their white counterparts. Certain white blood cells contain the body's natural growth and strengthening factors, which when applied to the newly broken skin can help increase circulation and reduce scabbing or bleeding after the procedure along with promoting firmer, smoother skin. Using this all natural, nutrient-filled serum is a revolutionary technique.
Benefits of Microneedling with PRP:
Reduces scarring, i.e acne scars and stretch marks
Improves texture and tone
Softens fine lines and wrinkles
Supplies healthy, fresh vitamins and minerals in the skin
Hydration
Promotes healing
Improves micro-circulation
After your microneedling procedure, our team will give you specific instructions and recommendations on how to optimize your result. On average, it only takes about 12 hours to heal completely, and many people will see results in two to four weeks.
$150 AND UP
Glutathione
Vitamin C,B6,B12
Cinderella
The intravenous route is the fastest way to deliver medications and fluid replacement throughout the body, because they are introduced directly into the circulation. Intravenous therapy may be used for fluid volume replacement, to correct electrolyte imbalances, to deliver medications.
Safe and beneficial for your overall health, the Cinderella Drip is an intravenous infusion containing Ascorbic Acid and Glutathione supported with Alpha Lipoic Acid. This potent blend of antioxidants help fight the signs of aging, lighten and even out skin tone, and boost skin clarity.
Scarlet SRF is the safest treatment in the field of RF systems, with absolutely no down time and no side effects. It targets virtually any skin issue. Clients are good to go immediately after treatment; there is no bleeding or sensitivity as experienced with other microneedle treatments.
Botox Injectables-Anti Wrinkle
Botox (onabotulinumtoxinA) is made from the bacteria that causes botulism. Botulinum toxin blocks nerve activity in the muscles.
Botulinum Toxin A (commonly referred to as Botox or Dysport) is the #1 requested non-surgical cosmetic procedure. It is injected to specific muscle areas (typically the face) to temporarily stop muscle contraction thereby causing wrinkles to relax and soften, thus helping prevent new ones from forming. Effects appear as early as 2 days after injection peaking around 7-10 days. It will gradually decline around 3-4 months. Results vary by  person. Re-treatment is common every 3-4 months.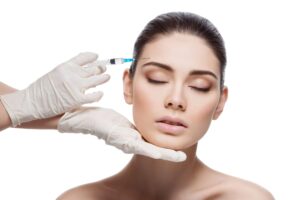 What are dermal fillers?
Dermal fillers are soft, gel-like substances that are injected under the skin. They can address a number of common concerns including smoothing of deep under-eye circles, lifting of cheekbones, volumization of the lips, smoothing of lip lines and nasolabilal folds (the creases that run from the side of the nose to the corners of the mouth), and rejuvenation of the hands.
Dermal fillers can be composed of a variety of substances, some naturally occurring and some synthetic. One of the most common compounds used in dermal fillers is hyaluronic acid (HA). HA is a naturally occurring substance found in our skin, and it plays a major role in keeping skin hydrated and volumized. HA fillers, depending on their specific chemical makeup, can last from six months to much longer before being gradually absorbed by the body.
Laser Hair Removal
Arms (Partial)

$75 

per treatment
Arms (Full)

$150 

per treatment
Back

$185 

per treatment
Bikini (Basic)

$75

 per treatment
Bikini (Brazilian)

$130 

per treatment
Bikini (Playboy)

$150

 per treatment
Chest

$150

 per treatment
Abdomen

$110

 per treatment
 
 
Legs (Partial)

$150

 per treatment
Legs (Full)

$250 

per treatment
Lip (Upper)

$40 

per treatment
Neck (Front)

$65

 per treatment
Neck (Back)

$65 

per treatment
Shoulders

$110

 per treatment
Sideburns

$40 

per treatment
Underarms

$75 

per treatment
Full Face

$110 

per treatment
Chin

$40

 per treatment
 
 

What Is PDO Thread Lift?
Sagging skin has a way of making a person look older and heavier than they may be. Some approaches to lift the skin require more surgical measures and can be highly invasive and unsettling. Polydioxanone (PDO) threads are absorbable sutures that many medical professionals instill into patients from medical professionals following cardiothoracic surgery. A PDO thread lift is a safe and effective minimally invasive way to tighten the appearance of sagging skin around the jawline and neck for a younger appeal!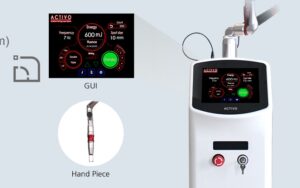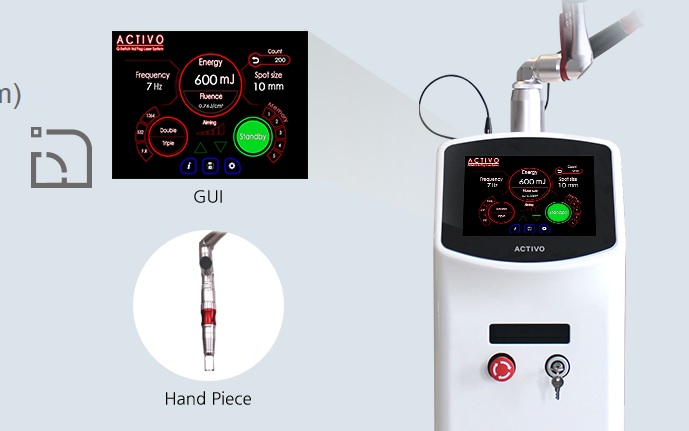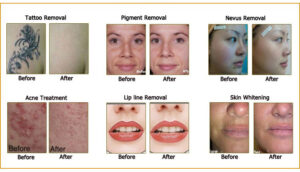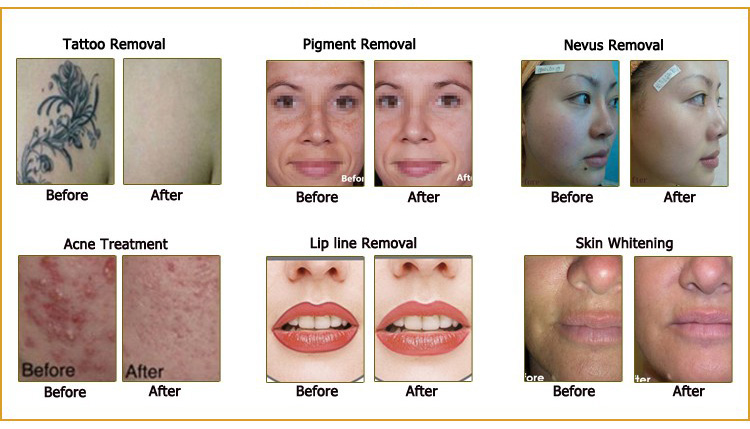 Q-Switched ND:YAG laser used for tattoo and pigment removal. Leading dermatology, plastic surgery, and laser specialty clinics value Q-switched lasers for their efficacy for a variety of skin issues, primarily unwanted tattoos.
A professional quality-switched laser (Q-Switched) is a non-invasive laser that creates high-intensity pulsed beam light. The Q-Switched laser beam pulses last a mere billionth of a second. The energy emitted from a Q-switched laser is concentrated into very powerful pulses.
Q-Switched lasers are able to shatter tiny fragments of pigmentation or ink, stimulate collagen production or kill fungus. Because their contact with the skin is less than other lasers, Q-Switched lasers are known for not damaging surrounding tissue and causing unwanted side effects.
With advanced technology, Q-Switched lasers are used for many conditions, including the following:
Tattoo removal
Treatment of onychomycosis (toenail fungus)
Age spots
Sunspots
Birthmarks
Freckles
Moles
Spider veins
Café-au-lait spots
Telangiectasia
Angiomas
Port wine stains
Skin rejuvenation
How It Works
Lasers remove tattoos by breaking up the pigment colors with a high-intensity light beam. Black tattoo pigment absorbs all laser wavelengths, making it the easiest color to treat. Other colors can only be treated by selected lasers based upon the pigment color.
You should first schedule a consultation with a trained professional who can evaluate your tattoo and advise you on the process. The number of treatments you will need will depend on the age, size, and color(s) of your tattoo. The color of your skin, as well as how deep the tattoo pigment goes, will also affect the removal technique.
Plasma Pen
What is Plasma Pen?
Plasma Pen is the most advanced, non-invasive skin tightening and rejuvenation device. The Plasma Pen can be used in a number of procedures to enhance looks without the need for expensive and invasive surgery.
This plasma device has been perfected across thousands of treatments all over the world. This device will help you get a brighter, more contoured, and more youthful appearance.
Benefits of Plasma Pen
Plasma Pen "fibroblastic" is highly versatile and is very effective in smoothing out wrinkles. tightening the eyelids, and can lift and rejuvenate any area of the skin.
Plasma Pen can:
Improve and brighten skin tone, laxity, and texture
Tighten loose skin
Dramatically reduce, inflate, and plump lines and wrinkles
Why Plasma Pen?
As we age, the dermal layer thins and less collagen is produced which causes our skin to wrinkle and sag. The Plasma Pen and our fibroblasting technique are designed to dramatically repair, reverse, and mitigate these signs of aging.
How Does Plasma Pen Work?
The Plasma Pen works by converting electrical energy into electrostatic energy which is transmitted to the probe by impulse. At about 1mm from the skin, oxygen and nitrogen are mixed to produce an arc of plasma which discharges onto the epidermis. There is an immediate contraction of the skin tissue and also thermal disruption within the dermis. This stimulates collagen production for the next few months, and also activates and releases important proteins in the dermis.
The highly accurate and controlled trauma that is caused to the epidermis makes the skin dry superficially into tiny carbon crusts, which falls off within a few days. After this falls off, you will have beautiful and rejuvenated skin at the surface.
Ultherapy is a nonsurgical alternative to a facelift. It's used to counteract signs of aging like skin sagging and wrinkles on the face, neck, and chest as well as drooping of the brow area. The FDA-cleared technology stimulates collagen production, which should create a more youthful look overall.