MICRODERMABRASION+ANTI-AGING FACIAL (70 MIN)
Description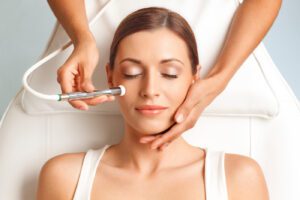 At Irene's Skintopia Med Spa, our experienced specialist uses a diamond tipped wand to gradually and safely remove the surface layer of the epidermis while stimulating the production of collagen and elastin.
Diamond microdermabrasion basically removes the surface layer of dead skin cells through gentle exfoliation, while the wand's vacuum sucks up dirt and dead skin cells.
By prompting this controlled skin renewal, we can reveal smoother, brighter, and rejuvenated after just the first treatment.
Diamond microdermabrasion stimulates a natural skin cell turnover causing addresses acne scarring, enlarged pores, improve fine lines and wrinkles, and hyper-pigmentation. as well as reviving sun damaged skin. We recommend this procedure once or twice a month.
Steam+ Cleansing-Skin Analysis-Microdermabrasion>Anti-Aging Face Massage>Custom Mask>Finished Products.